Judy K. Sheppard is an exceedingly sharp businesswoman who has grown her company, Professional Services of  America, into a highly respected multi-million dollar business recognized not only in West Virginia but throughout the world.
Getting Started
Starting with just $500, two (2) cardboard boxes and a vision, Judy Sheppard started her first company.  Beginning from the first day Judy opened the doors of her company, she has worked very hard to become a trusted name for solutions to critical human resources problems.   Her hard work paid off as she began to handle temporary and contracted employees for many of West Virginia's largest industries.  Within a few years, she had grown from two (2) employees to three hundred (300) employees. Today, her company provides various types of services to her original clients as well as to many new clients including twenty-eight (28) different agencies of the federal government.
Certified for Business
Judy is certified as a Woman-Owned Small Business (WOSB), Qualified HUBZone Small Business Concern (SBC), as well as WBENC (Women's Business Enterprise) and WIPP.  These certifications allow Judy to be eligible to do business as a prime contractor with the federal government,  as well as a diversity contractor for many major corporations.
Accomplishments
Judy's continuous accomplishments mentoring women across the U.S. have been recognized in many different ways.  She was selected to head the West Virginia Instant Impact Team as part of WIPP (Women Impacting Public Policy).  As a part of WIPP, Judy sits on the prestigious Federal Procurement Committee that provides interaction between government entities and small women-owned businesses to allow more women business owners to have the opportunity to bid on federal contracts.   WIPP has appointed Judy as the West Virginia Small Business Advocate to lobby for necessary changes for small and women-owned businesses.  By opening doors for women-owned and small businesses in Washington, DC, Judy opens doors for women and small businesses across the United States.
Leadership
Judy has an impressive lineup of awards and leadership positions.  She was honored as the Ernst & Young Entrepreneur of the Year in 2003, Minority Entrepreneur of the Year in 2004, Small Business of the Year in 2005, SBA Women in Business Champion in 2006, the State Journal's Who's Who in West Virginia Business in 2007, the Biltmore Who's Who List in 2007, Top 100 Women Business Enterprise (WBE) owners impacting supplier diversity by the Women's Business Enterprise USA magazine in 2008 as well as bestowed an honorary degree from West Virginia University-Parkersburg in 2008, and the WBENC Southeast Division's Women's Business Enterprise of the Year for West Virginia.  She was recognized as the WIPP (Women Impacting Public Policy) Member to Watch in 2009 and she was honored as one of the "50th Most Powerful Minority Women in Business" at the Ritz-Carlton Hotel in Washington, DC and featured on the cover of the May/June 2010 issue of the MEA Magazine, a notable achievement since Judy is the only woman from West Virginia to ever have won this designation.  In 2010, American Express OPEN named Judy as the Teaming Contractor of the Year and also in 2010, she was inducted into the Euro-American Women's Council Artemis Sacred Island Hall of Fame.  In 2011,  Judy was named by the SBA as the Small Business Person of the Year, and also received The Euro-American Women's Council's Artemis Award for Outstanding Achievement in the USA; in 2012, she was named the SBA Region 3 Minority Person of the Year,  received the Prestigious Goddess Artemis Award from the Euro-American Women's Council and an honorary award by the Federation of Hellenic Societies of Greater NY.  In 2013,  Judy was named TrailBlazer Woman of the Year by the Ohio River Valley Women's Business Council, was bestowed an honorary award by the Federation of Hellenic Societies of Greater NY,  and received the esteemed Bronze "Stevie Award" for Female Entrepreneur of the Year for Business Services.  She is currently a voice for women of the State of West Virginia in Washington, DC.  She is regularly sought out for her insight regarding many issues facing women business owners including healthcare, government contracts, and access to capital.
Community
Judy is a noted business leader in her community and state.  Her current and former community involvement includes  serving as the Chairman of the Board of the Polymer Alliance Zone, Executive Board Member of the Mid-Ohio Valley Chamber of Commerce, Board Member of the Smoot Theater,  Board Chairman and Speaker Chairman of the Parkersburg Rotary,  Board Member of the March of Dimes,  Board Member of the Parkersburg Homecoming ,  Board Member of the American Marketing Association, Board Member of the Parkersburg Area Roundtable, Board Member of the Volunteer Action Center, Member of the Parkersburg Development Taskforce, Board Member of the Parkersburg Area Community Foundation and Member of Ohio Valley University Board of Distinguished Visitors.
Finally, Judy has made and continues to make many valuable contributions to all West Virginians.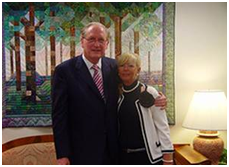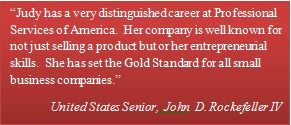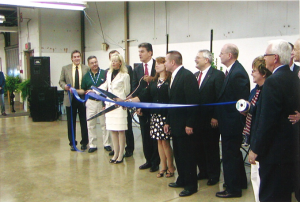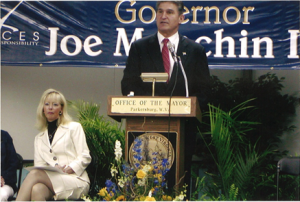 Find out more about Judy K. Sheppard at: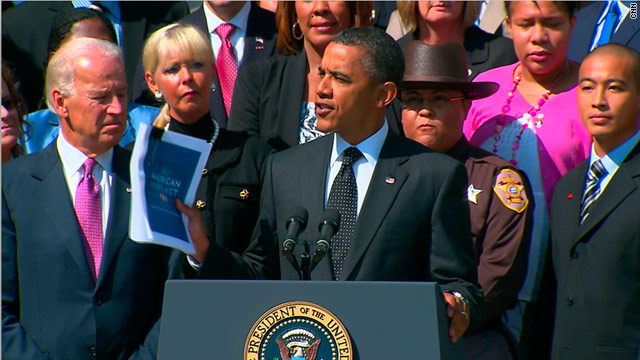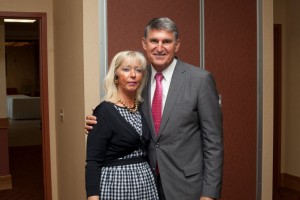 Judy K. Sheppard and Senator Joe Manchin (2015)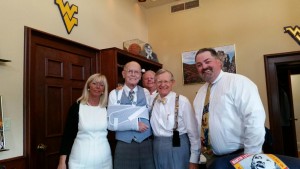 PSA Team with WVU President, Dr. E. Gordon Gee (2015)